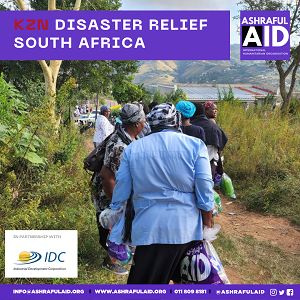 The IDC donation was used towards supplying a total of 200,000 litres of water, over 80 tons of food as well as thousands of hygiene packs, mattresses and blankets to affected communities during May 2022.
Areas included Ndwedwe, Umlazi, Inanda, Marianhill, Amaoti, Ntuzuma, Chatsworth, Verulam, Riet River, Phoenix, Isipingo, Kwa Mashu, Molweni, Tongaat, PoloPony, Embo, Tshemimnyana, Chesterville, Lindelani, Newlands, Queensburgh, Malagazi, Welbedacht and Waterfall.
"We sympathise with the people of KZN during this trying time. The IDC is deeply concerned about the well-being and safety of fellow South Africans, families and businesses affected by the floods. We are confident that our partnership with Ashraful Aid and their well-established track record will make an impactful difference within the KZN community, as it did during last year's unfortunate unrest in the province," says Tshepo Ramodibe, IDC Head of Corporate Affairs.