Social Development
Ashraful Aid is an organization that works to provide social development programs to underprivileged people around the world. The organization provides support for entrepreneurship and skills development training to help people improve their lives and build better futures for themselves and their families. One of the key ways that Ashraful Aid supports social development is through their entrepreneurship programs. These programs provide people with the training and resources they need to start their own businesses and become self-sufficient. This can include providing training in business skills, such as marketing and financial management, as well as providing access to capital and other resources.
View Details
Water Security
Despite access to water being a basic human right, access to clean water remains a problem in many areas across Africa, Asia and refugee communities, and increasingly in South Africa. Our water programme aims to improve access to clean water by providing short-term water relief with water tankers and bottled water, and long-term water relief by providing wells and boreholes. By ensuring that people have access to clean water, we also help to prevent waterborne illnesses and improve overall health and wellbeing. ver the past year we have seen an increased need for water relief in South Africa and we expect the water crisis in the country to grow over the next few years.
View Details
Education
Ashraful Aid is committed to supporting disadvantaged children by providing them with the resources they need to succeed. Through our learner support programme we provide support with school and madressah fees,      stationery supplies, uniforms, and other materials needed by learners as well as providing tertiary education bursaries to enable learners to further their studies and increase their earning potential. Our school support programme supports schools and teachers with training and infrastructure support to ensure that they are able to provide a good education to their students.
View Details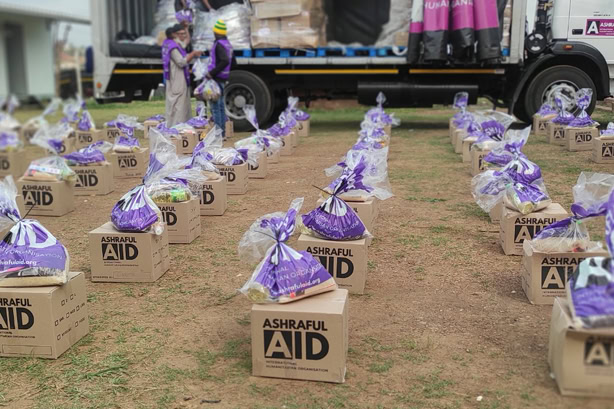 Food Security
One of the key ways that Ashraful Aid helps to provide food security is through our food distribution programs. These programs provide individuals and families with the food they need to meet their daily nutritional needs. This can include everything from staple foods like rice and beans to fresh fruits and vegetables and hot meals. Beneficiaries of our food relief programme include families in need, university students, schools, madressahs, hospitals, old age homes and other community organisations. During the past year, over 25,000 food hampers have been distributed across all 9 provinces in South Africa, reaching rural communities as far as Northern KZN, Mpumalanga and Northern Cape. Food hampers have also been distributed in Somaliland, Burundi, Uganda, Syria, Yemen, Afghanistan, Palestine, Pakistan and Bangladesh.
View Details
Disaster Relief
Our Disaster Relief programme aims to provide assistance to people affected by natural disasters and other crisis situations around the world including earthquakes, hurricanes, floods, conflict situations, fires and other natural disasters. This includes small-scale, localised community based disaster events as well as large scale provincial and country-wide disaster situations. In the longer term, Ashraful Aid also works to help people recover from the effects of a disaster. This can include providing support for rebuilding homes and communities, providing support for livelihoods and income-generating activities and providing psychosocial trauma support where needed. In the aftermath of a disaster, Ashraful Aid is able to respond within 24 to 48 hours to provide immediate relief to those who have been affected. This can include providing shelter, food, water, and other essential supplies to help people survive the immediate aftermath of a disaster.
View Details